Dearest Emily,
As I went into your parent teacher conference this morning, I knew what to expect.
"Emily is an amazing student."
"She has the most beautiful handwriting."
"I've only had to redirect her twice for reading her books during the math instruction. She gets lost in her reading."
"Emily is very well liked. She has lots of friends."
"Emily exceeded on all of her standardized tests."
"Emily got all As but one B, an 89%, because she had one bad test."
"Emily struggled with one assignment where no instructions were given, she just had to answer with her best guess. Emily sat there for 20 minutes because she didn't want to write down a wrong answer on her paper. You know mom, she is a perfectionist."
Oh my sweet girl…
You are a miniature version of myself. I am so blessed to have you and love you for everything you are. Not for what you do. I want you to enjoy life to the fullest. But there is something I want more for you than ever, which is hard for me to even type right now.
I want you to fail.
I want you to fail hard.
What better place for you to fail than at home where Dad, Rebecca, Ben, Samantha, and I can help pick you up? I don't want you to idly sit by waiting for the right answer. The older I get, the more I realize that the right answer by society's standards isn't always the right one. Often the answer you discover for yourself is the right answer. And what is the right answer for you one day, might not be the right answer the next day.
So jump into the deep end with both feet and know that it's ok to feel scared and bewildered, but that your risks will pay off. And if the water gets to be over your head, Dad and I will be there to pull you in to safety. But we are going to work hard to allow you to tread for a while. I believe that will be one of the greatest gifts your dad and I can offer.
I want you to color outside the lines. I want you to paint the world with a permanent marker. And leave your mark, even if others don't appreciate your artwork.
I want you to love yourself and see yourself like your dad and I do. You are Emily, an 8 year old, full of life who will always be our favorite third child. You are a lover of cantaloupe, swimming, belly giggles, baking, and getting lost in a book.  And that my sweet child, is more than enough.
Loving you always,
Mom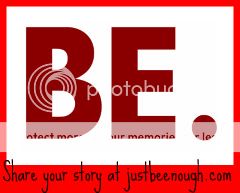 Tweet